HOLIDAYS IN THE Bresse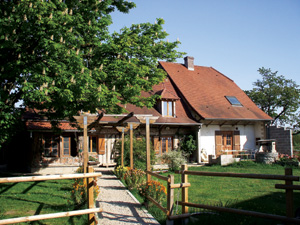 This cozy ground level holiday apartment for non smokers is fully furnished with a separate entrance. It consists of a spacious bedroom with two beds, a living / dining room with a fireplace. Sitting area with sofa and dining area are tastefully furnished. For a further sleeping accommodation for children a spare bed can be added, or - depending on weather conditions they might also enjoy a tent in the garden. The open kitchen is fully equipped with an electric stove wit 2 hotplates and an oven with an extractor hood, fridge with freezer compartment (220litres), double sink, a cabinet with crockery and cutlery for 4-6 persons. The bathroom with toilet and shower is located behind the kitchen. Bed linen and towels are plentiful. The floor heating and ceramic tile floor provide comfort and warmth. The barbeque area is perfect for relaxation and comfort.
Where can you find this gem?
Chapelle Voland is in the Jurassic Bresse, a border village to Burgundy (Saône et Loire) in a slightly rolling countryside, on the north-south axis 40km from Dole, or 90km from Lyon. Discover nature with hiking, biking or kayaking, you can relax in a deck chair away from all the stress and hustle and bustle. Here you can watch the ducks, chickens, geese, cows, cats and dogs. Daily shopping is guarateed locally. Berries, vegetables, salad and various fruits from our Oekogarden will provide a fresh bounty depending on the season. Shopping areas are within 12-60km in different cities. Regional specialities are very versatile. If you enjoy golf, there is a 9 hole course 500m from the farm. Fishing is possible at several local lakes within walking distance. There are plenty of interesting historic sites for field trips. The city of Beaune, famous for the first medieval monastery hospital is approximately one hour away. Salt mines, castles, museums, potteries and very impressive caves invite you to visit. On the wine trail through the Jura and Burgundy you will get to know beautiful wines and new flavors. Anyone interested in the work of a beekeeper is welcome to join us and discover right here.
DIRECTIONS TOCHAPELLE VOLAND
Traveling to the farm with your own car, many roads lead to Chapelle Voland. A detailed itinerary is available on request upon booking. Directions to Chapelle Voland.

By train from Basel you are taken via Mulhouse (change train) Besançon, Dôle to Lons-le-Saunier, where we will meet you by car.


We rent the apartment, depending on the season for € 250 - 350 pro Woche (all inclusive). If you enjoy farm work and would like to help out on the farm, we will give you a discount.
On Request we will be happy to send you a brochure.
We look forward to your visit
Helen Whitehead und Georges Voehringer